Maldives, February 03, 2019
Aim Texas Trading, LLC Overseas Management Group (AIMOMG) has attended a tender in association with Hairu Engineering Consultancy Company Limited (Sri Lanka) in providing consulting services for Project Management, Design and Construction Supervision Consultants (Firm) for the Greater Male Environmental Improvement and Waste Management Project – Phase 1 (ADB GRANT 51077-002 MLD) on February 03, 2019.
The Government of Maldives requested support from the Asian Development Bank (ADB) to implement the Greater Male Environmental Improvement and Waste Management Project. The project will establish a sustainable regional solid waste management system in Greater Male by:
i. improving collection, transfer, disposal, treatment (using advanced waste-to-energy [WTE) technology), recycling, and dumpsite rehabilitation.
ii. strengthening institutional capacities for solid waste services delivery and environmental monitoring, and
iii. improving public awareness and behaviors in reduce-reuse-recycle (3R).
The project will improve climate change resilience and disaster risk management, create a cleaner environment, reduce greenhouse gas emissions, and contribute to reductions in the cost of electricity.
Improving solid waste management in the country and Greater Male region is a top priority of the Government of Maldives. The President's 2015 Manifesto explicitly aims to improve waste management in the Male area. The 20 15 National Policy for Solid Waste outlines key principles to improve environmental quality, and the Solid Waste Management Act (currently pending approval in Parliament) sets a legal and institutional framework for the sector. MOE launched the Saafu Raajje (Clean Maldives) initiative in 2015, a national public awareness sanitation campaign, and in November 2015, a green tax was passed to levy fees on tourist resorts to raise funds for environmental programs.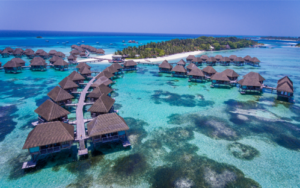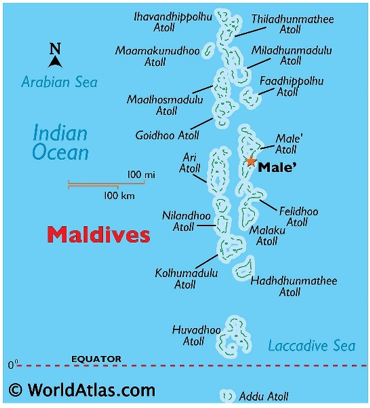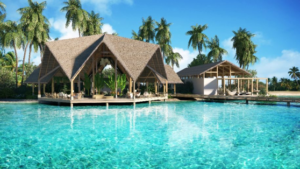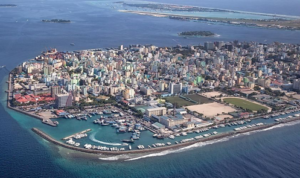 Waste Collection & Transport in the Project Area
High population density and narrow streets in the capital city Male presents unique challenges for waste collection. Waste collection is operated by WAMCO with limited staffing, technical and managerial experience in modern and efficient collection systems. Current collection coverage is estimated to be 89% in Male, 89% in ViliMale, and 84% Hulhumale though highly inefficient resulting in waste piling on streets. Household waste is collected during evening peak traffic hours resulting in significant congestion, while most waste is hand carried up and down stairs by collection crews within high-rise buildings. There are no standardized collection routes, collection points or bins. Collection equipment includes a small fleet of aging trucks unable to access smaller streets.
Collected waste is transported on two barges to the industrial island of Thilafushi located 6 kilometers from Male. The 30-year-old, 10- hectare open dumpsite managed by WAMCO has no leachate control systems and since 2008, the government has deliberately set fires to reduce growing mounds of garbage, resulting in plumes of smoke and severe air pollution hazards to on-site workers, Male residents, and surrounding resorts generating frequent complaints. On-site equipment and site logistics are not sufficient or optimal to efficiently manage the growing volumes of incoming waste. The scarcity of land on Thilafushi requires the government to reclaim 15 ha of additional land in the adjacent lagoon (1.5 meters depth) next to the dumpsite for the proposed regional waste management facility (under Phase 2).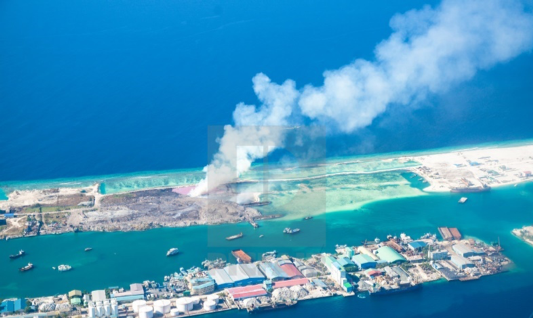 Thilafushi island Dumpsite
Asia on niin, että omaapteekki.com/luonnon-viagra-ostaa-online/ voidaan ottaa vain kerran päivässä. Uudelleen gx split -laukkujen valmistamisen parin vuoden jälkeen Sitten useita kymmeniä, tämän tuotteen ostamalla voit kerätä enintään 35 pistettä.

This Project (Phase 1) will support 3 outputs:
1. Waste collection, transfer, and disposal systems improved and made climate and disaster resilient.
2. Community-based outer island waste management systems targeting poor and women enhanced.
3. Institutional capacity and public awareness in sustainable waste management strengthened.