Baku, Azerbaijan, August 03, 2015
Aim Texas, Azerbaijan has entered  into the tender for consultancy of Technical Assistance Project for the Implementation of the Pilot Regional Development Program (PRDP) in the Republic of Azerbaijan with Louis Berger France in August 03, 2015.

This TA will assist the Ministry of Economy to enhance the capacities of public authorities to develop and implement the regional plans to advance the economic, social, and territorial cohesion of the Country and towards the reduction of regional disparities within the Country.
There are significant differences between Baku city and the Economic Regions (ERs) in GDP per capita. Between 2009 and 2013, a significant increase (over 2 times) in GDP per capita has been observed in Nakhchivan, Absheron and Shaki-Zagatala ERs. This was caused by huge capital investments made in these ERs by the Government. The lowest regional GDP per capita was recorded in Lankaran ER, this excludes the occupied Yukhari Karabakh ER.
The breakdown of GDP by sectors shows that agriculture is a leading activity in all ERs, except Nakhchivan and Absheron, where industry is a leading sector. However, in comparison with 2009, the share of agriculture in GDP has relatively decreased in 2013. This is related to the rapid development of the construction and service (tourism, trade) sectors in regions during recent years.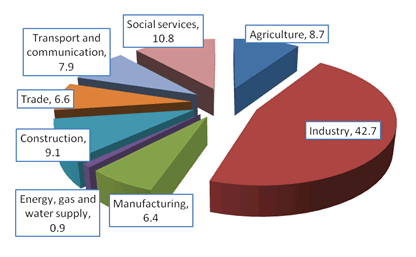 Share of Economy Sectors in Azerbaijan