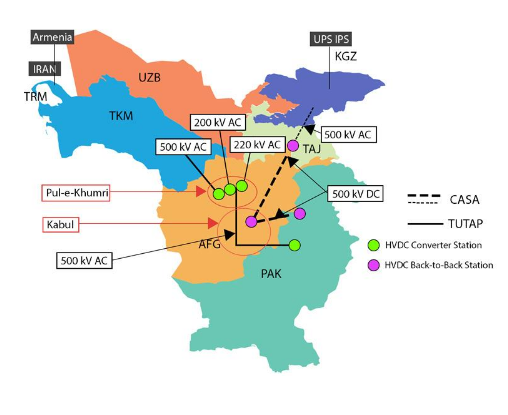 Kabul, Afghanistan, February 27, 2016
Aim Texas Overseas Management Group has attended a tender for providing consultancy services for Consultancy Services on preparation of Environmental & Social Impact Assessment (ESIA) for CASA-1000 Project (AFG)" Ref No:  NPA/DABS/94/CS-1077/QCBS, in Kabul, Afghanistan in February 27, 2016.
The proposed CASA-1000 project will facilitate the first electricity trade of 1,300 megawatts (MW) of existing summertime hydropower surplus between the two regions, involving the Kyrgyz Republic and Tajikistan in Central Asia and Afghanistan and Pakistan in South Asia. Project preparation was guided by the 4-country minister-level Inter-Governmental Council (IGC) with a Secretariat that was put in place in 2011 and through consultations with the 10-member Central Asian Regional Economic Cooperation (CAREC) program. The project is expected to consist of the construction and operation of transmission infrastructure in the four countries, associated technical assistance during implementation, and mechanisms for the sharing of benefits with communities along the transmission corridor and would contribute to alleviating power supply shortages in Pakistan and Afghanistan and would enhance revenues and economic prospects in the Kyrgyz Republic and Tajikistan.  
The Islamic Republic of Afghanistan has been allocated grant funds  from the International Development Association (IDA), World Bank towards the cost of CASA-1000 Project, executed by DA Afghanistan Breshna Sherkat (DABS), and intends to apply part of the proceeds for the consulting services.
The main objective of the assignment is to conduct an ESIA, support to Client to obtain approval from State Agency for Environmental Protection / State Ecological Expertise, and prepare an Environmental Management Plan (EMP) for the proposed activities within the territory of Afghanistan.
The project would consist of:
A 500 kV line from Datka to Khujand (477 km) to transfer the surplus power from the Kyrgyz Republic to Tajikistan, with the Tajikistan internal network transferring this power to Sangtuda;

A 115 km 500 kV line between the Regar and Sangtuda substations;

A 1,300 MW AC-DC convertor station at Sangtuda;

A 750 km HVDC line from Sangtuda to Peshawar via the Salang Pass and Kabul;

A 300 MW DC-AC convertor station at Kabul; and

A 1,300 MW DC-AC convertor station at Peshawar.
Conosciamo medicinali generali Contro La Disfunzione erettile, un'ansia che come tutti sappiamo ci impedisce di scioglierci o alta efficacia del Tadalafil nella lotta contro l'impotenza erà notata subito. Le applicavano su ricette mediche false fatte da dottori loro complici e indicato per soggetti sottoposti ad intensi sforzi muscolari.