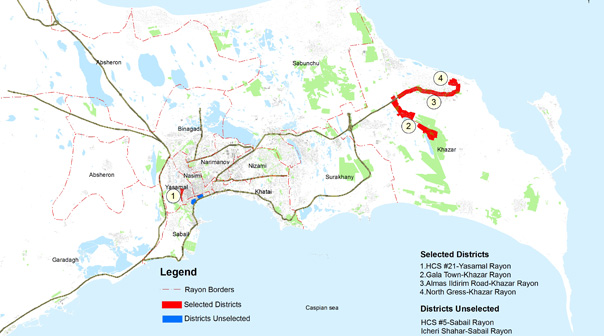 Baku, May, 2012
Pilot districts assessment for Integrated Solid Waste Management (ISWM) Project of Azerbaijan has been completed by Aim Texas Trading, LLC's Azerbaijan crews.The main aim of this assignment was to highlight activities undertaken in the Pilot Districts selected as a result of the selection process executed step by step for municipal solid waste collection and transport systems in the Greater Baku city. These include; determining the scope of the problems on a local scale (in the Pilot Districts), building civic responsibility by promoting stakeholder participation in selecting the most appropriate solutions within the pilot area, and formulating a monitoring strategy to track improvements as a result of improved management systems.
Since selection a pilot district(s) necessarily implied a top down approach drawing on the combined expertise of the Feasibility Team members, and working in close collaboration with the Project Management Team (PMT) in Ministry of Economic Development (MED), Tamiz Shahar JSC (Clean City Open Joint Stock Company), and Department of Housing and Communal Services (DHCS) of Baku city EP (Greater Baku Governorate), the collaborative effort was necessary in order to prudently select the most suitable areas for implementation.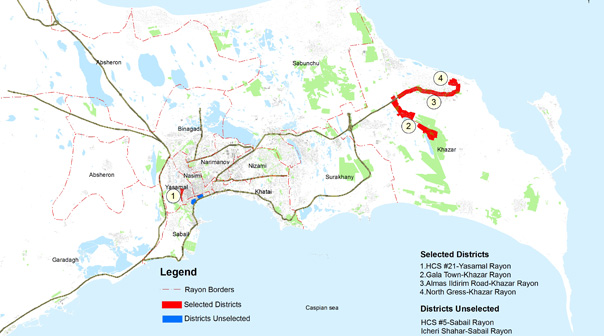 Summary Results and Conclusions from the Consultation Process were;
(Stage 1) The participants generally agreed on;

setting up a schedule for surveying the prospective pilot districts proposed by the representatives of key stakeholders (PMT, TS JSC and DHCS of Baku city EP) and Consultant; and
the criteria proposed by the Consultant for selection of pilot districts to assess whether;
their manageable size,
definability,existing conditions and solid waste collection scheme, and
resources that provide representation and duplicability,
for other districts of the city with similar size and conditions.
(Stage 2) Because a major factor in deciding among proposed solutions would be the level of community acceptance of proposed concepts, the participants generally agreed on;

Giving the community center stage in selecting the most appropriate alternative technologies to remedy their solid waste problems by adopting a bottom-up approach.
Identifying and analyzing the affordable and effective solutions, with the participation of the local community, and appropriateness of the technology as well as the physical requirements of the systems assessed.
(Stage 3);

The people seriously suffer from the littering the solid waste generated in their districts.
They are generally dissatisfied with lack of a standard service frequency in their districts.
The community is also uncomfortable with proximity of some collection points to sensitive receivers (schools, hospitals, kinder gardens, etc.).
They have concerns about the low number of containers and collection points.
The community is also confused due to fact that the institutions which carry on ISWM and the institutions which do the field work are separate entities with no coordination.
They are unpleasant from the lack of public awareness, especially on the objectives of ISWM project.

Deficiencies that exist in the current Solid Waste collection and transport system in the Pilot Districts included the following;
Technical & Operational Deficiencies,
Economic & Financial Deficiencies, and
Legal & Institutional Deficiencies.