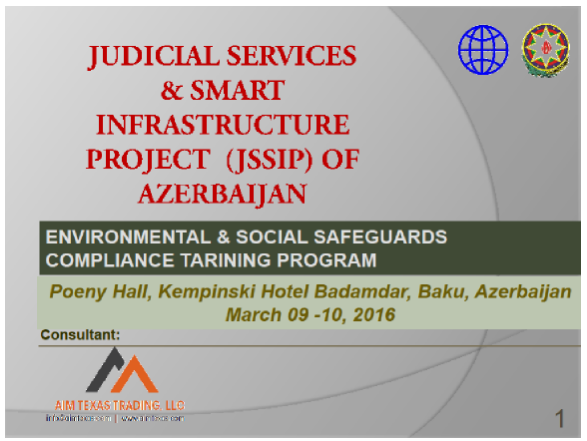 Baku, Azerbaijan, March 09-10, 2016
Staff training for environmental and social safeguards compliance for Azerbaijan Judicial Services and Smart Infrastructure Project (JSSIP) has been completed in Poeny Hall of Kempinski Hotel Badamdar, Baku with attending of specialists and staff from JSSIP PIU, Ministry of Justice, Construction contractors of the court complexes, and staff from the construction design company.
Following staff are trained in two day training sessions by Consultant's trainers, who are fllows;
Abdurrahim Tan, International Consultant, Sr, Environmental & Social Safeguards Specialist, AIMOMG

Javid Murtuzov, National Consultant, Social Specialist, AIMOMG

Aytan Dunyamalisoy, National Environmental Consultant, Environmental Specialist, AIMOMG

Hikmat Akbarov, National Consultant, Resettlement Specialist, AIMOMG
Staff trained
Organization
1

Iltimas Shabandayev, Civil Engineer

JSSIP -PIU

2

Vusal Gurbanlı, Sr. Procurement Officer

JSSIP -PIU

3

Cafer Alekberov, Environmemtal Specialist

JSSIP -PIU

4

Havva Nisa Huseynova, Environmental Specialist

JSSIP -PIU

5

Vatan Ahmedov, Social Specialist

JSSIP -PIU

6

Rasim Agabalayev, Technical Supervisor

JSSIP -PIU

7

Ismayil Resulov, Environmental Specialist

Afgan Firm – Contractor, Sumgait Court complex

8

Anar Aliyev, Environmental Specialist

El-Seym Inshaat, Contractor, Narimanov

9

Fikret Agayev, Environmental Specialist

El-Seym Inshaat, Contractor, Surakhani

10

Seyid Ahmad Miriyev, Design Expert

MDM LLC, Design Contractor of JSSIP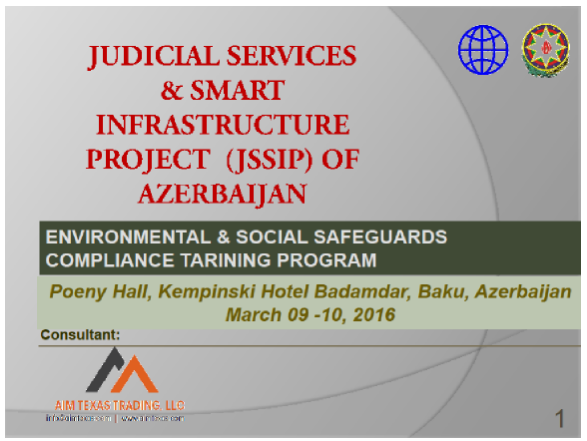 This training program sought to provide an understanding of the basis for the safeguards that applicable to the JSSIP and the manner by which safeguard compliance has to be achieved to assure that all related potential social and environmental issues are prevented or immediately corrected if they should occur. To that end, the training program also sought to provide the JSSIP Project Management Unit (PIU) and other stakeholders with information and increased knowledge concerning the:  
Basis for and nature of the World Bank safeguards framework,

Description of the safeguards that have been determined to be specifically applicable to the JSSIP,

Description of the various activities and issues that are relevant to each of the applicable safeguards which must be monitored by the MOJ and its PIU for ongoing compliance,

Procedures by which safeguard compliance can be effectively monitored and managed throughout the execution of Component B of the JSSIP, and

Process by which any non-compliant issues are addressed and remedied to prevent major social and environmental damage as a result of the JSSIP.
The fundamental content of this training manual is supported with the information contained in a number of other reference sources including:
The JSSIP Environmental Management Plan (EMP) dated September 12, 2013

The JSSIP Resettlement Policy Framework (RPF) date September 2013

The World Bank Involuntary Settlement Sourcebook dated 2004

The World Bank Physical Cultural Resources Safeguard Policy Guidebook dated March 2009