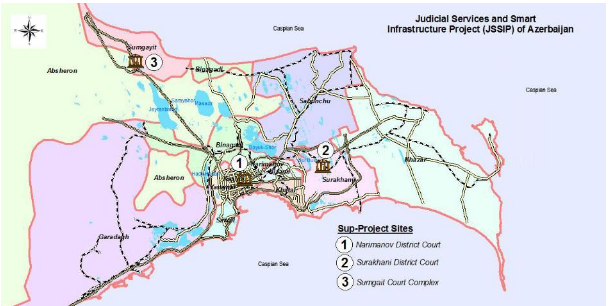 Baku, Azerbaijan, August 30, 2015
Aim Texas team for Audit of Environmental and Social Safeguards compliance of JSSIP of Azerbaijan has prepared and submitted the Implementation Plan which is the first deliverable of the assignment.
To fulfill the requirements of this assignment as defined in the consultancy TOR, the Consultant was required to:
Verify, through audit and other appropriate means, Project compliance with the three applicable safeguards;

Recommend remedial measures that may be needed to correct any noncompliance issues and assess their implementation and efficacy; and

Enable the MOJ and the Project PIU to identify noncompliance issues and make timely decisions on remedial/corrective measures that may be necessary to ensure compliance with the three referenced safeguards and to learn the strategic lessons resulting from ongoing activities for the benefit of future projects.
Having Implementation Plan prepared, construction work was underway in the following referenced civil works projects. The following is a summary of the current status of the three civil works elements of the Project that are the subject of the initial audit process (see following Figures) include:
Baku City Narimanov District Court  

Baku City Surakhani District Court

Sumgayit Court Complex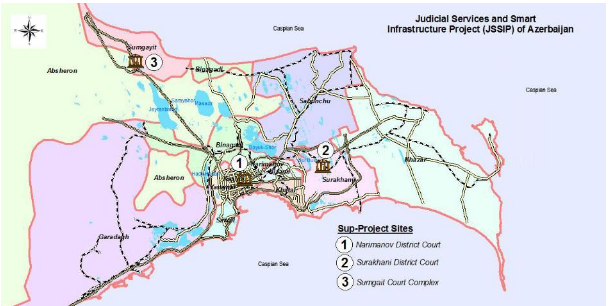 Two Environmental and Social Safeguards Compliance inspections and site visit campaigns are conducted at three sub-project sites within the performance period of this report. A checklist for inspections has been prepared by the Consultant's team for recording the compliance and non-compliance issueas and Consultant's Comments/Recommendations.
Based on the information gathered to date and the physical inspection of each construction site during this initial assessment, the following results and recommendations are presented.
Additional and ongoing care must be taken by the site contractors to prevent or minimize any environmental impacts commonly associated with construction projects. At a minimum, this should include procedures, equipment and systems aimed at preventing or minimizing dust and silt control, noise impact, litter and effective management of all forms of waste derived from the sites during construction.

All forms of waste derived from the construction process must be properly managed including chemical waste that likely needs to be managed indpendently of other waste (MSW, construction waste, etc.) derived from the sites.

Spill kits should be readily available at all sites to assure the effective and immediate clean-up of potential spills to presvent environmental impact. Contractor personnel shoud be properly trained in their use to minimize environmental impacts.

Documentation related to construction permits, equipment specification and functions should be available on site at all times for inspection and reference.

An incident reporting mechanism should be immediately incoporated into the management of the site to assure proper documentation of all relevant incidents including, at a minimum, injuries, damage to equipment, site infrastructure and adjoining properties, impacts on adjoining properties and potentially affected persons, grievances and the discovery of or damage to physical cultural resources. This incident reporting mechanism shall also be utilized as a means to communicate the occurrence and nature of incidents to the PIU on a regular basis.

A grievance redress mechanism is not currently in place to receive and address any grievances or complaints that may occur during the planning and construction of the sites.

While no impacts on adjoining properties requiring involuntary resettlement were observed during the initial assessment, continual care and monitoring needs to be taken by the Contractors to assure that such impacts do not occur and, if they do, are properly addresses in an expeditious and effective manner. This continual monitoring and care must also be applied to the possibilty of discovering chance finds of physical cultural resources that must managed in a manner that does not damage or destroy them.