Architectural Committee of Azerbaijan, Aghdam, Karabagh, Azerbaijan, March 10, 2023
On March 10, 2023, AIM TEXAS through its Design Group, designed submissions for a City Park and Tea House within the reconstruction context for the Central District of the Aghdam City near the Planned War Museum, Karabagh, Azerbaijan, and the reconstruction and redevelopment master plan for the city.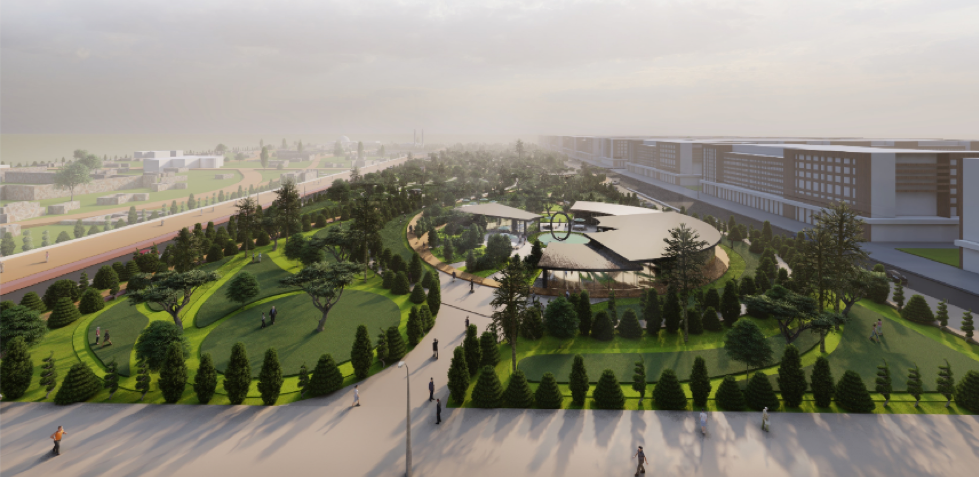 Located in the heart of the new downtown, right next to the prospective Invasion Museum, Pavilion, Flag Square and the (to be) renovated Aghdam Mosque, the site for the Urban Park is crucial in connecting these and making a cultural mark at the center of the city. Within this cultural context, the form of the highly significant "Buta" was studied, both in form, to create gardens and spaces, but also as proportioning system, to use its inherent golden ratio to place central nodes for plazas and buildings.

Using this proportioning and formal method, and taking into consideration the paths through the site, walking and biking paths were created, with a secondary courtyard lawn created in front of the Aghdam Mosque to connect it.
The system laid out as well as the paths created formed the spaces and gardens of the park, which were categorized based on their contextual proximities. The following park as formed from this process is one that responds to its environment in terms of function, form, and cultural significance. In particular, the Invasion Museum and the Aghdam Mosque to the south, and the residential plots to the north inform the negotiation between the public, iconic and landmark into the daily and residential. To this end, the park includes both smaller and personal, as well as larger and monolithic spaces.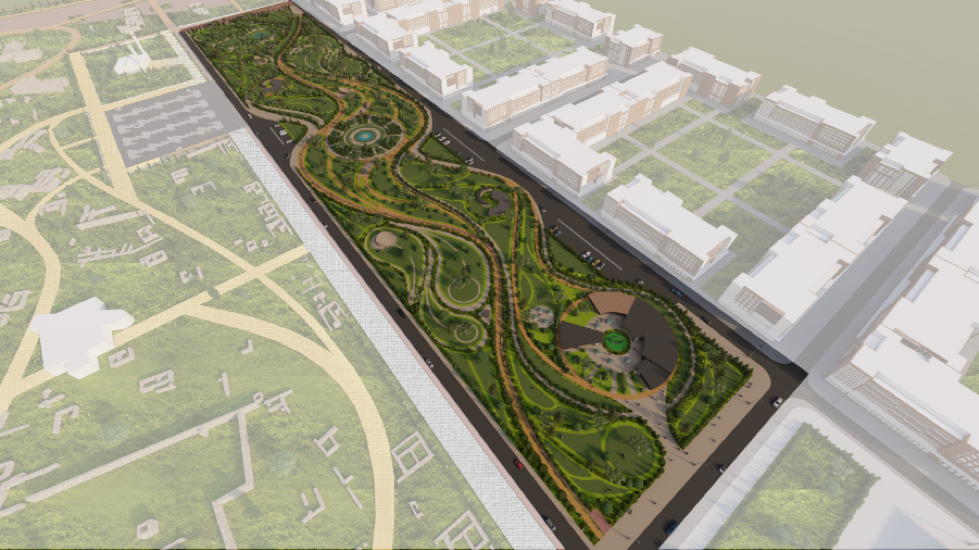 This urban insertion of national scape occurs both on formal and material/greenscape applications. Particular care has been taken in studying local endemic flora, including perennials, bunchgrass types, common flowers in the region such as meadowsweet and Caucasian tulip, as well as trees such as the Eldar Pine, Caucasian Alder, and variety of regional bushes like ruscus Hyrcanus.
The park irrigation would utilize the grey water generated in the site in aid in irrigation of the flora for use in the more carefully managed sections of the greenery. This system would utilize a system that would synergize with runoff collection for longevity of soil health as well.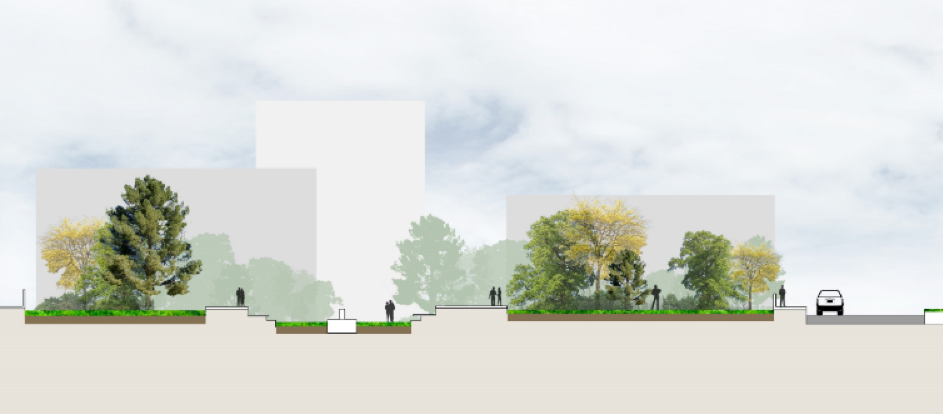 By wrapping the park forms around this way, it also links to the Mosque. As a result, the fountain facing the mosque acts as an anchoring and framing point.